Home > Software > Productivity Modules
< Previous Next >

SHOW BASKETS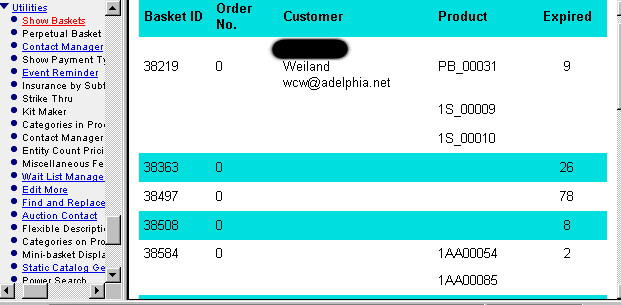 click image to enlarge
Latest Version: 5.018
Review by ken - Nov 27, 2013
Worked great for our site. We were able to pinpoint where baskets were being abandoned.
Review by Ian - Jan 24, 2013
Really helpful to see if & where people are abandoning baskets and lets me look to see what is in customers baskets before they checkout, A must have module.
Login and write a review
Read All Reviews
Display all open baskets in a table format. This report includes active and expired baskets. As a MIVA Merchant store owner you are able to see how many people come to your store and abandon baskets, even after placing items in the basket. In some cases, customers get to checkout and then abandon baskets and you can determine that too. You can use the module to check basket activity before closing the store for maintenance or deleting baskets in admin. As baskets are converted to orders, they disappear from this listing. Likewise, when expired baskets are deleted in Admin, they also disappear from this listing.
Basket ID - Number assigned when a customer visits your store
Order No. - Incremented number (or retrieved from unused numbers) each time a customer enters their customer information at checkout
Customer - Account info (if available) - Login, Ship To Name, Bill To Name (if different), Ship To Email, Bill To Email (if different)
Product - Product codes in the basket at this time (may be empty or contain one or more)
Expired - "Yes" indicates the basket was last refreshed more than the number of minutes for your basket timeout setting. A number indicates the number of minutes since last activity and the basket is not timed out.

The compiled 4x version of this module has the ability to delete specific baskets. This feature was requested by a store owner who found his competition was purposely putting large quantities of items in the basket so they would be out of stock. By using this feature he was able to delete the basket and the items were immediately put back in inventory. If you are using the OpenUI version 4.935 the Show Baskets link can be found in the upper admin section under Current Shoppers (see image below). While the OpenUI tells you how many unexpired baskets there are, the Show Baskets module goes further by showing you the items in the baskets and specific number of minutes each basket was last accessed.
This module is also included in the Basket Master bundle. Save when you buy bundled module licenses.
Online overview and initial setup instructions for our MIVA Merchant modules.
Screen shot showing open baskets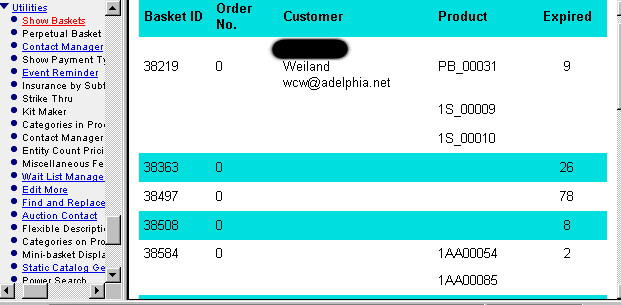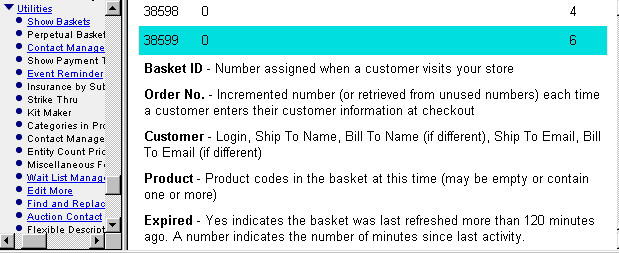 OpenUI menu with Show Baskets link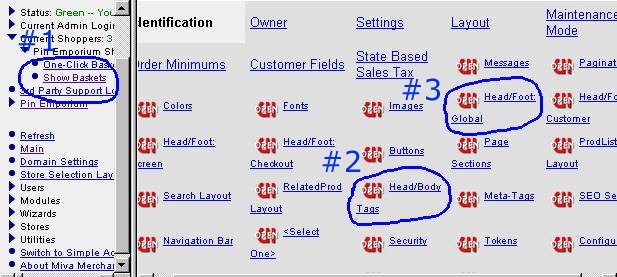 Updated: Thursday 12/12/2013 17:03:58 (Dec 12, 2013)